Marrakech, the Red City lying deeply in the mainland of Morocco is not an odd destination for travelers in all over the world with lovely and colorful houses, ancient buildings and structures or busy and hurry up lifestyle. However, to the same destination, each kind of tour will bring you different feeling and experience. This time, we would like to give you an impressive one with a culinary tour in Marrakech
Unlike your previous tours to Marrakech, we do not follow the passion of our eyes that are keen on hundred – year – old houses in old quarter or vast deserts but lost in small and snaky alleys of souks to feel the traditional and unique taste of Marrakech.
Food Market in the Old Quarter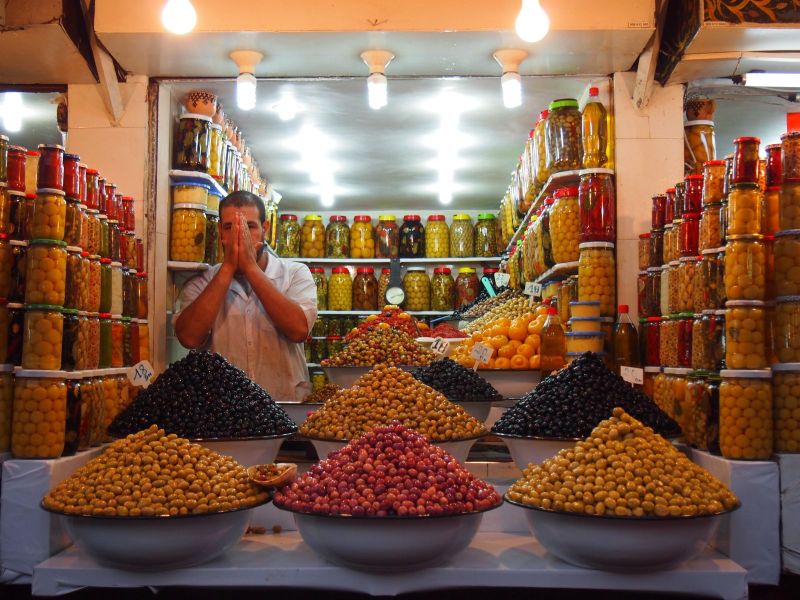 The first thing in our this tour must be visiting the most popular souk in Marrakech, which is in area of Old Quarter recognized by UNESCO and listed as one of the most attractive foodie market on Earth.
A part from numberless handmade goods like clothes, carpets, cups or teapots, you will see a variety of old – fashion and characterized cooking ingredients. Most of them are kinds of spicy and well – known olive oil of Marrakech. On the other hand, one kind of herb that you can find at every stall is dill. This aromatic herb is so popular that it seems to appear in almost Marrakech dishes. There is a funny saying that if you not a massive fan of dill, face up with the famished situation in the Red City.
Open-Air Dinner at Dijemaa El – Fna Square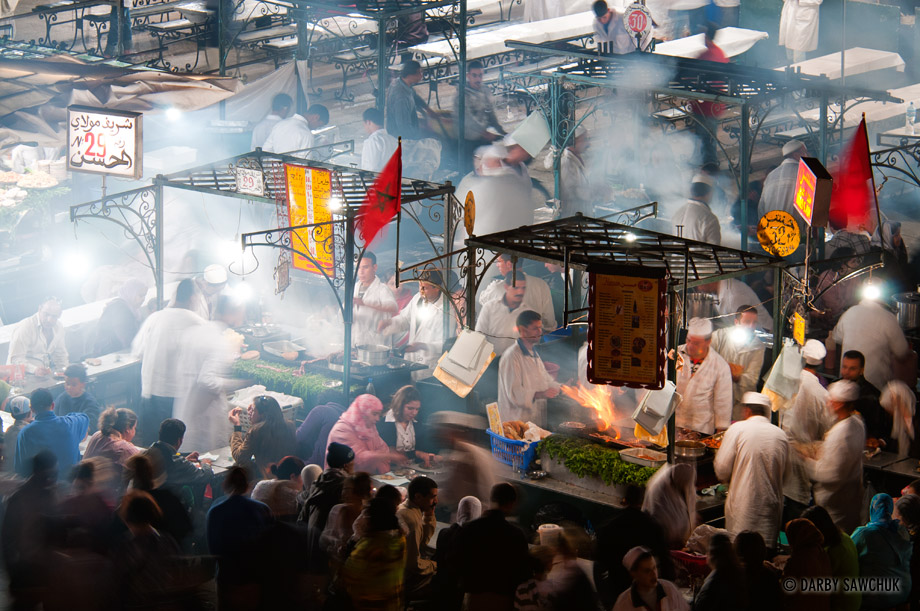 Another place you should not miss if wanting to eat as the Marrakech is the main square of Dijemaa El – Fna. Considered as not only open – air movie theater, this place is where you are able enjoy a real dinner in this exciting city. From twilight until night at the square, atmosphere and rhythm of the life here becomes noisier and busier with the showing up of hundreds of food stalls taking part in with the performances of snake charmers, prophets or street dancers. Blending into the crowd, try to taste amazing flavor of chicken stew in clay pot or tangine, a slow cooked lamb. Coming back to the square in the next morning, you will be amazed at changing food stalls into drink ones with a various kinds of them like fresh orange or grape fruit juice, for example.
One of the most favorite places of the Marrakech in enjoying food or drink is not only street stalls or inside restaurants but also on the terrace of the building. It is no need to be large but clean, airy and well – decorated. It is an unforgettable memory if you have at least one chance to enjoy warm and charming fragrance radiating from a cup of coffee or cool and slight savor of a cup of mint tea and fall in the magical beauty of sunset. It is one of rare moment in the city, you can feel quiet and relaxing like that. It may be not an issue of enjoying cuisine but lifestyle in Marrakech. You can get reviews on Marrakech Tourism on Tripadvisor before going there.
Marrakech is a strange and magical city in the world where you feel easy to be lost in it. About its gastronomy, foreign visitors may be impressive by eating and drinking style more than its dishes. Any ways, the Marrakech culinary culture is always the thing staying forever in every mind whose steps set on this land.